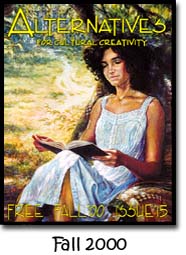 Fall2K. A beautiful path leads into winter. Our world needs a lot more love and a lot less rules.
In Whose Street? Our Streets, Kerul Dyer goes on the road to chronicle the major Party Conventions in Philly and LA. She notes the word "Party" correctly describes what passes for politics here, as "legalized corporate bribery danced incestuously with thinly veiled republicratic extortion." More importantly, she gives insight into the birthing process of a new mass movement in America.
William Benz follows with his post-beat Deep Green Rising, a poem of the wild spirit resisting fascism, born knowing all it needs to know and "Howling beneath a Remembered Moon . . ."
Michael Moore writes a brilliant and hilarious analysis of Campaign 2000 in his Bush & Gore Make Me Wanna RALPH. Be warned, this is for the over 50% of Americans of voting age who've got it figured out and don't vote. If you're voting for Bush or Gore, he's not talking to you.
Becky Kemery follows with part one of a four part series on sustainable building practices. Her overview of what's going on in this subculture is exciting to the imagination. As usual, mainstream doesn't have a clue, hence these options aren't even on its radar screen yet, but there's a new day coming in the realm of the built environment.
Rick Bayer, M.D., nails the WoD with his article The War on Drugs = a War on Sick People and Doctors. This is indeed a sick social policy in which the punishment does not fit the crime -- it is the crime.
Bug Chasers, a deeply researched article by Daniel Hill, searches the soul, not only of the Gay community, but of the human community. "Everyone is in the closet about something. The only real difference is the demonizaton of their behavior - and that's not about "them" it's about us."
Stan Siver, a psychologist from Portland, invites all citizens to an Open Forum. "Amongst the many conflicts before us, there is one "Measure 9" that particularly touches me because I am concerned for our children, I am concerned for the suffering of so many gay and lesbian people, and I am concerned for the Oregon Citizens Alliance (OCA)." Stan seeks solutions to seemingly intractable social problems and offers an ancient cultural institution to aid that solution.
Hanneli Francis explores the mystery of metaphor in The Dance of Raven and Eagle. "Balanced between the Spirit and the Soul, the masculine and feminine, is the journey of the human heart. . . . When we hold the vision of the eagle and the feeling of the raven with equal tenderness in our hands, a new being springs forth-the child of the future."
Our columnists comment on emerging culture as well. Ness Mountain leaves home with his son to wander the deep reaches of Oregon's eastern mountains where they break bread with folk from another tradition. "I wondered about the politics they might subscribe to. Didn't want to ask, didn't want to be ungrateful..That was before I saw Ralph Nader at Memorial Coliseum..."
Carolyn Berry remembers and gives thanks to the true teachers of her life. "Much like a critter on the brink of hibernation, I gather great stores of sweet memory foods as summer wanes...to revisit significant influences in my life path..."
Bob Czimbal throws an outrageously intimate party after realizing that he hadn't seen the three words Erotic Spiritual Play together before, and wondered why that was. "While their proximity of these words suggested blasphemy, I imagined a world with an abundance of sensuality, sexuality, joy and spirit."
Enjoy the passage! Let us know what you think, we're on the path together.
What is Alternatives?
Alternatives Magazine is taking the American paradigm out to lunch. Alternatives works (and plays) with the ideals and activism of our emerging culture and provides a forum to express and/or locate the holistic ideas, goods and services that support a life well lived.
Alternatives for Cultural Creativity recognizes that our society is in transition and that an integral culture is emerging out of the context of dominant American society. We see this integral culture as concerned with values focused on spiritual transformation, ecological sustainability, holistic health, political and economic justice, self-actualization and expression, and enlightened parenting/family relationships.
Culturally creative people are putting the pieces of the global puzzle together in a dynamic and entirely new way, and coming to a holistic understanding of personal and planetary relations. Alternative people are open to the ecstatic possibilities,
Copyright 1999. Alternatives is published by Get Real Inc. Contact us at P.O. Box 1086, Salem, OR 97308-1086 toll free 1.888.308.6207 Salem area 315.8277 fax 503.315.8260 or eMail us at: [email protected]