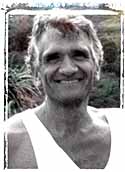 Live Foods for Life by John Checkal
The greatest gift of all has been the change in my emotional health and my ability to reconnect with those parts of myself that are my spirit.
At age 53, after 27 years in chiropractic practice in the same town, I decided to sell my practice and semi-retire. My health worried me. My hands were becoming arthritic, I had sleep apnea and I always felt like I was "stuffed up". I struggled with severe constipation, was 90 lbs over-weight, and had low energy and little enthusiasm for what I was doing.
Moving to the metro area from the small town I had practiced in all those years was an engaging change. Working out of my home, and at hours convenient for both me and my patients, was great. However, all of this meant finding a new patient base, so I decided to do free back-screenings at the local Saturday market.
Fate's funny. The Saturday market was slow and to ward off boredom I talked to other vendors. One of these was a guy with a wild message of eating a different way. He was vegetarian/vegan, but, beyond that, he advocated eating only whole foods, (fruits, veggies, nuts and seeds), that had not been heated to over 110 degrees; in other words "raw". I'm always interested in new information, especially scientific studies, so I started asking him questions.
As I heard him describe health results that people were experiencing, I realized that what he was talking about was something my own mother had done decades prior. She was extremely overweight, and had gone to the Ann Wigmore Institute, in Boston. It had done wonders for her, but I, in my young and newly licensed superiority, had told her that it wasn't valid, even though it had made such a difference in her life.
Remembering this, I decided to check the diet out and attend some classes coming up on the Living Food Lifestyle.
These classes were taught by an enthusiastic Russian woman. She and her family had immigrated to this country and had immediately taken up the American lifestyle. They all quickly developed numerous health complaints, the most serious being her son's onset of juvenile diabetes. Unwilling to sentence her son to a lifetime of insulin dependency, she looked for answers and, in the process, discovered vegetarian raw foods. After a few months on this diet, all the poor health conditions in her family started reversing and even disappearing. The doctors were astonished.
She started researching the why's and how's of the raw foods lifestyle and then began teaching what she learned to others. I was skeptical but, listening to her story, tasting the food and hearing her scientific explanations made me willing to give it a shot. All I had to lose was my time, at worst. At best,I figured, if it worked, I might lose my own poor health.
It was suggested that I not only embrace a food lifestyle change, but also clean out my body's systems. I decided to do a parasite cleanse and a series of colonics. I gradually weaned myself from fish and chicken. I also found healthy substitutes for such items as bread and milk products.
Given my particular addiction to food, I knew that, if I were to succeed in making this change, I'd have to do it all the way, or nothing. I decided to go 100% raw. I let my family and friends know that this was my choice and what it meant in terms of new eating habits. My wife was happy. Being a vegetarian and fairly "raw" herself, she loved the idea. The biggest challenge for her was that suddenly I was more "raw" than she was!
As I started losing weight, moving from 260 pounds to 175 over the course of six months, some family members worried that I was harming myself. It had been years since I'd weighed that and they had forgotten how I looked. It was difficult for them to understand that my body was adjusting—shedding the excess, unhealthy parts of itself—and that it would stop when my system was cleaned out, and then move back up to the perfect weight. Meanwhile, as toxins in my system dissolved, my stuffiness, sleep apnea and constipation disappeared. My arthritis improved. I looked haggard compared to my previous well-fed look, but I knew that I hadn't felt so good or had so much energy in years.
Other, internal changes taking place within me were just as dramatic as the physical changes. For years I'd been constantly depressed, almost angry. As I had been out of touch with my body, so it was with my spirituality. The greatest gift of all has been the change in my emotional health and my ability to reconnect with those parts of myself that are my spirit.
Dr. John Checkal teaches classes and does consulting on Raw and Living Foods from his retreat center in Tigard, Oregon. He is also a board member of the Raw and Living Food Festival which is a worldwide event held annually in Portland.