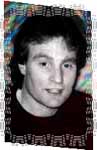 Thunder Rising, A Green Light for Hope by Brian Bogart
"Labor to keep alive in your breast that little spark of celestial fire called conscience."
This quote from our first president defines America's spirit of freedom. George Washington had foresight. Today's America ignores its conscience, and democracy hangs in the balance. Bad leadership, bad habits, and the inability to innovate have delivered a frightening dilemma at a crucial moment in the history of humankind. Represented by the Bush administration, we Americans currently advocate the perpetual pollution and weaponization of the world. It is evermore obvious that only good and selfless people can be trusted to set an agenda that would truly make America an admired world leader promoting democracy without hypocrisy.
We began together on Earth undivided and now find ourselves faced with a simple life-or-death prospect: recognize our oneness and reunite in spirit or "perish as fools," to quote Dr. King. A secured future lies at the end of a path of wisdom and unity, not selfish interests. As we continue to watch the abuse of democracy and witness the constant failure of our government to address the future with intelligent foresight, the task ahead seems insurmountable.
But a green light for hope has appeared; an honest politician has arrived in the wings. I have seen Camelot and I have seen King, and not since then have I felt a genuine thrill of hope. In these shadowy times, one man outshines the others. Congressman Dennis Kucinich (D-Ohio) is an American leader who also happens to support the most visionary agenda this nation has ever seen, with an inclusive, inspiring dream for the evolution of a peaceful civilization.
"A few years ago, I could smell the dynamic tension between the claims of the community and the claims of the free market in the tear gas that invaded the locked-down lobby of this very hotel (Westin, Seattle) during the challenge to the practices of the World Trade Organization. I could feel that tension coursing through the streets of this city when I marched with machinists and moms, with Teamsters and turtles, in a call for human rights, workers' rights, and environmental-quality principles to become integral to our commerce.
"The challenge before us today, the challenge before our nation and the world is whether we accept the beneficence of Lincoln's Prayer to create 'a government of the people, by the people, and for the people,' or whether we timidly accept the economic, social, and political consequences of a government of the corporations, by the corporations, and for the corporations." (Congressman Kucinich, Democratic National Committee Western Caucus, Seattle, May 25, 2002)
In the months since delivering his highly praised "Prayer for America" speech last February at the Americans for Democratic Action convention in Los Angeles, Dennis Kucinich has received some 50,000 letters of support on his Web site (thespiritoffreedom.com). Followed by a popular national and overseas tour, thousands of people are now strongly urging him to seek the presidency.
Congressman Kucinich envisions total nuclear disarmament, a ban on space weapons, and peace academies in towns and cities around the world, nurturing a path to permanent peace and conscious evolution. He supports a Peace Day holiday, and universal health care with the inclusion of holistic medicines. He is the sponsor of the proposed United States Department of Peace, and an architect of a viable and compassionate plan embracing the entire human family.
"The Department of Peace seeks nothing less than the qualitative transformation of the social and political structure of this country and the world." (Congressman Kucinich, Eugene Register-Guard, May 26, 2002)
Right here in Oregon, citizens are organizing to bring this transformation to their own communities through the development of the first public model of peace education in the country. The Eugene Children's Peace Academy is slated to open in September 2003, and is designed to provide students with effective strategies to meet the challenges of this century with confidence, imagination, and vision. The integrated curriculum is structured to prepare students for democratic participation in a global society. The school will partner with a regional International Peace Center to provide education for families and adults in the same core-curriculum concepts, which include environmental sustainability, global citizenship, peacemaking, and self-discovery.
In terms of the future, when asked what potential exists to redefine the political mainstream, Kucinich replied, "It's happening, it's happening right now. What I found out from the people I'm hearing from all over the country is that there's an America out there that has not yet been defined, but it's emerging. It's an America of people who are neither left or right, who care about the quality of life, who are optimistic about the possibilities of our country and the world, who want to make a difference. This is an America made up of people who are creative and nurturing and builders and conservationists, who want for their families and themselves a more peaceful and prosperous world. These are people who have a sense of the importance of integrating spiritual principles with the material world."
With one planet and one future, acknowledgement of the absolute logic in the concept of one people is inevitable, and there is more than enough wealth in the world to produce a middle-class global civilization within a hundred years. (Economists have already developed compassionate systems for trade, but are being silenced by powerful forces addicted to the status quo.) To preserve the mosaic of cultures in our world, we would be wise to unite around a vision of a world without war; an equal opportunity planet of hope, progress, and intelligent living. Reflecting on ourselves, our systems and their impact on the future—and whom we choose to follow—are crucial steps in evolving beyond 2100. Dennis Kucinich expresses a cogent, courageous vision, and connecting our cars to his engine would be a start along the right track.
We are engaged in a life-or-death struggle between selfless activism and the power of greed. It would take centuries to resolve our superficial differences, but less than a generation to unite around true similarities and build on common ground. When humankind adheres to constructive guidelines recognizing the sacredness of the future above all in its decision-making, we may bridge the thousand chasms of differences we have produced or come to perceive, and at last welcome our evolution from killers to caretakers. Activism in pursuit of a peaceful global community represents nothing less than the conscience of civilization itself.
"We're at the threshold of a new century. We look out on a new horizon and you can almost feel this potential for a new society coming up like thunder."
Brian Bogart is director of Miraijin (FuturePeople), and enrolled in a self-designed Peace Studies graduate program at the University of Oregon focused on building a peaceful civilization by 2100. Please contact Brian at [email protected] to join a group promoting the birth of a global peace movement. To add your funds or talents to the Eugene Children's Peace Academy and its broad vision, please contact wendyst[email protected] or visit www.eugenepeaceacademy.org.