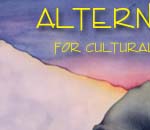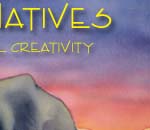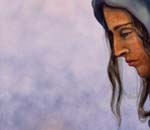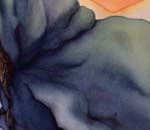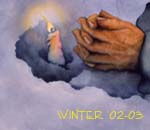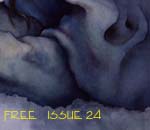 "Dawn of Hope" (watercolor 28"x20"), by Nancy Bright
The thing that gives us hope is another day, tomorrow. When darkness overwhelms, when the journey is cold and bleak, as long as there is life, light appears.
"Dawn of Hope" symbolizes the eternal flame of hope—the hope that at last appears when there was none, the light that rises as the dawning of a new day, the radiance that eminates warmth in the bitter cold of the journey.
To all who sojourn on this earth in endless trials, in ceaseless grief—let your hope be the light of the coming dawn, and let your light be the hope for all you share your journey with. Nancy Bright 2002
Signed prints of Dawn of Hope are available on line at www.brightcreationsart.com, or Circle of Hands, 1030 Willamette, Eugene OR. For a free catalogue of Nancy's art, call 541-342-8051.
Winter '03 Issue 24
The Gift of Presence
By Carolyn Mitchell
A Teachable Moment-Lessons from the Crushing Initiative Losses
By Spruce Houser
Kundalini Awakening-Facing A Spiritual Emergency
By Geo Grant
The Dynosaur War-To Protect Corporate Profits
By Thom Hartmann
Physicians' Perspective
-Can Noelle Bush Give Us Trickle Down Drug Policy & Prison Reform?
By Rick Bayer, MD
Wisdom and Compassion-Buddhist Psychotherapy as Skillful Means
By Kerry Moran
Leaving Home
-Obedience to Authority / War in Iraq
By Ness Mountain
Dreams of Kindness, Love & Grace-Buzz & Spin
By Carolyn Bolton
Fossil Fuel Vampires and Other Nightmares
By Richard Marianetti

My Father's Clouds-
Hannity, Limbaugh, O'Reilly & Savage-Wear Asbestos Pants!
By John Borowski
Echoes of Patriotism
Looking Back and Going Forward in America
By Shannon Floyd
Radical Astrology
By Emily Trinkaus
From Survival to Freedom
By Lisha Song
Saving Salmon, Saving Ourselves
By Pollyanna Lind
You Are Here-Fiction
By Geronimo Tagatac