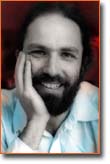 Leaving Home: Welcome Elsie Blackbird by Ness Blackbird
My recent days have been full of omens, miracles and wonders. We had a baby two months ago. I honestly haven't been the same since.
We were pregnant a long time, it seemed. Pregnancy was painful for Heather, and I was deputized to run errands, clean the house, rub her feet. I don't think either of us felt altogether ready, it was her first baby, we gave up on being ready. We just waited. My 16-year-old son, Mo, waited with us. We worried sometimes. We stressed.
The evening Heather went into labor, the sense of unreadiness blossomed, reached a cusp. The word "ready" still didn't seem to apply, but there was a growing sense of something happening. We were changing, though we didn't know how.
Mary Lothman, our midwife, came and checked on us. "Doing fine," she said cheerily. "Call me if anything changes, I'm going to go get some sleep." She'd warned us that childbirth involves a lot more waiting than you expect, but still it was a shock that she just left. Each moment seemed like a crisis. How could she just go home to sleep?
In retrospect, I suppose there were, in fact, no crises that night. Heather held onto my hands all night, leaning on the edge of her birthing tub and moaning sometimes. We talked. Mary checked in again at four the next morning, and came back to stay at eight. I was sure the baby was coming any momentÉanother hour at the most. I was sure of this, more or less constantly, for the next ten hours.
The pain grew and grew. I felt it as an enormous strain, my whole being dedicated to somehow trying to help Heather with the process, to help her stay connected to the spiritual help she needed. Around three, Heather began to scream, chanting "O God O God O God". Mary tells us that Elsie Pippilotta Blackbird (we all changed our name to Blackbird to have the same name) was born at around five. I can't remember it very well-only a little, cone-headed creature lying quietly on Heather's belly. In her eyes, I could plainly see the darkness of outer space, the long journey she had come to be with us.
Mo came down to meet the new arrival. I can't describe how precious it has been to share her with him, his caring for her, at once mature and childlike in his love. For the first few weeks, Heather and I felt like that—growing together with our shared love of Elsie, sharing our spirituality in the intensity of the processÉfor a while after that, it was hard. Lack of sleep hasn't helped, since Elsie tends to wake up every hour or two, all night long. But we're on the other side of something, and although our arguments can be intense, we both know we're bonded, for good. It wasn't just Elsie who squeezed herself through the tiny tunnel that day, to reach a new world, a changed person. It was all of us.
I've been working hard since then, catching up with my computer business (I have a little business doing computer systems for nonprofits), and what with that, and doing some counseling, and helping with the baby, and keeping the house clean, I've been too tired to think much about the outside world. But I worry about it.
What a crazy time to have a baby. Does this look like a nation at war to you? Can you see the bombed-out buildings, the injured children crying for mothers who are dead, the blood of the young men? But no, we live on the other side of the war, with the justifications, the bragging, the lies. The bombing has stopped, for now, but the lies just go on.
I must raise my child in a world of lies, and it makes me sad.
I recently read an article comparing 9/11 to the burning of the Reichstag parliament building in 1933; Hitler used this terrorist incident to gain power, blaming the Communists. Civil rights were suspended in the state of emergency...Historians suspect that the Nazis were involved in the arson.
As I write this, Elsie gurgles in the other room. She's a happy baby. Life goes on, and she will grow tall and strong, and early on she will have to learn about lies. I'm sorry, Elsie, I wish we had a better world for you to grow up in.
Our prayers go with you, into the future.
Ness Blackbird is a counselor and urban shaman living in Portland. Comments on Leaving Home are welcome. Email Ness at <[email protected]>.