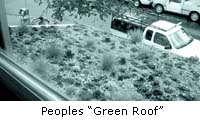 People's: A Landmark Example of Sustainability and Service by Jill Brandt
People's Co-op, established in 1970, was one of the first whole food organic produce providers in the Portland area. And People's continues to thrive with a membership of approximately 1600 families and an annual revenue of $1.25 million. Blending values of ecological sustainability, organic vegetarian foods, community participation and sustainable transportation, People's is a great example of progressive business practice. Sales are up over 50% from last year.
A remodel and expansion, based on the Cooperative's environmental and social values, is now functionally complete and operational after two years of construction. The eco-design principles they incorporated used alternative building methods combined with recycled and environmentally friendly materials. These labor intensive but earth-friendly methods were pulled off with the help of lots of volunteers.
People's is the first commercially zoned building in the nation to feature cob wall infill (basically a clay and straw mixture). All of the materials used were carefully selected to ensure the lowest possible impact on the environment. For example, materials chosen for durability include concrete and wheatboard floors, Hardi panel exterior walls, cob and stone. All the wood trim, metal and porch framing materials are recycled or certified sustainably grown. Insulation, glues, treated wood, sealers and paint were all chosen for less-toxic and non-toxic properties.
In addition to the alternative building materials and emphasis on recycling, People's incorporates renewable and highly efficient designs that improve the store's heating/cooling, air and water exchange systems. A ground source heat pump is installed for heating and cooling, as well as a solar chimney passive air exchange system that maximizes natural ventilation.
Water efficiency features include the two green roofs (little meadows on the roof) and a 1,500 gallon cistern, permeable pavers in the walkways and driveways, and a grass courtyard. The above features actually ensure zero runoff from the property! Water is recycled through the irrigation system and the waste system.
Future improvements include plans for a water sculpture art project that will aerate water as it enters the recycling system, a third green roof, as well as solar panels to generate electricity.
Green features extend beyond the construction practices into the daily operations of the store. Not only is the building itself designed to conserve waste and resources, increasing efficiency in daily operations is an ongoing effort (evolving consciousness) for Co-op members and employees.
Another sustainable principle that People's is committed to is car-alternative transportation. There is purposefully no large new parking lot to accompany the building's expansion. The permitting process to enlarge the store demanded a larger parking lot to accomodate "typical" numbers of cars. The Co-op undertook surveys (in an effort to avoid all this nonsense) that clearly showed that over half of People's shoppers do not use automobiles while shopping at the Co-op. There are plenty of bike racks instead, well above code requirements.
People's new delivery program greatly increases the viability of bicycling to and from shopping. Building shelters over the bike racks for the rainy season is another future goal. Bus passes are sold at the counter as well.
This beautiful new building is a landmark, not only for its unique and artful designs but as a symbol for the vitality of both the cooperative method and environmental consciousness in business practice. The commitment to sustainable principles including cooperation, healthy living choices, and mindfulness for the Earth makes People's Co-op a model for our future.
People's Coop is located at 3029 SE 21st Ave, (just a block north of Powell). Hours are 9-9 daily. For more information, go to www.peoples.coop, or call 503-232-9051.