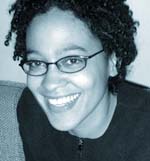 Children and Activism by Beatrice Ekwa Ekoko
It's just a stage, they say. "When you get married and have kids, you'll stop. You won't care anymore." Actually, for my husband and me, activism began because of having children. Suddenly, you wake up to the smell of car fumes and pesticides, pollution or the sound of bulldozers cutting down the last green space in your town, and you think, "My God! I have kids. What is there left for them?" And then you get sad, and angry. And then you get busy.
My children, ages 9, 7 and 6, have always been involved in activism. In uterus, each child had already begun her odyssey on the path of demonstrations and actions around social justice issues like homelessness and poverty, and environmental issues like air pollution and smog. Later, you could spot them dressed as aliens from the poison gas planet or decorating a car with paints at a 'Car Free Day' event. And so it has continued. They go where we go. If there is a meeting, we bring crayons, markers and paper. Their artist skills are employed with welcome when it comes to making banners and signs. They bring their music along in the form of singing, violin, or piano playing. Many a tune and song have been composed on account of a social injustice!
Children can and should be included in activism. They lend a freshness and enthusiasm that brings hope and fun to the cause—essential qualities needed to sustain a group's often long-term work. And, after all, it is on their behalf and that of future generations that we work so hard for such causes.
Granted, it's easier when the kids are older because you don't have to breast feed continuously, or change diapers, or take them to the bathroom every three minutes. It's especially easier if your kids are home-schooled, like mine. Then all the world is a school. We get to attend demonstrations and actions during the daytime, and think of all the learning that takes place! For example, because of their involvement in defending the ancient forest at a demonstration in the woods, they began to learn all about the kind of forests existing in this area. This in turn has led to interest in and exploration of other vital forests, such as the Rainforest, ("the lungs of the planet"). They went on to learn about the mythology surrounding forests the world over. They learnt about some local plants and their medicinal and food properties for the native peoples. They learnt about the Sacred Fire, sang native songs, listened to the drummers and became acquainted with other native traditions. We went to the library later to learn more about the first peoples of North America and their bitter history, and the lessons we need to learn from them about respect for nature.
The children helped put a show together around the issue for a weekly local radio program. As a result they were exposed to the videotaping and movie making projects of others. They met all kinds of really interesting people, one of whom invited them to make pinhole cameras and take pictures in the valley. This led to working in a darkroom for the first time ever, then modifying their photos on a computer using Photoshop. Talk about education! Talk about building community!
They helped leaflet downtown and at the information booth we set up during a local street festival. With all the exposure to local initiatives and institutions, they have learnt about the different levels of government during the elections, and how democracy works in this country.
Most of all they are learning to fight the good fight—to question, seek solutions and alternatives and to act when things are not right. They are learning solidarity, bravery and courage, (many of their friends and their father were hauled off to jail), determination and love of humanity, justice and nature.
When I asked my oldest if sometimes it isn't all too much for her, if it makes her too sad, she replied, " Sure, I feel sad at times, but I want to know what is going on. I wouldn't want to be ignorant and not know. Now at least I can do something about it!" Way to go!
Beatrice Ekwa Ekoko is an un-schooling mother of three girls. A visual artist, writer, and co-producer of Radio Free School, a weekly radio program by, for and about home-learners, her writing has appeared in The Hamilton Spectator, Life Learning Magazine, PIRGSPECTIVES, and Home Educator's Family Times. She can be reached at [email protected]