Spiritual Life Healing & Development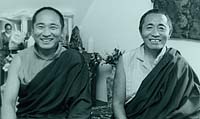 Portland Padmasambhava Buddhist Center
During their 1996 visit to Portland, Khenchen Palden Sherab Rinpoche, and his brother, Khenpo Tsewang Dongyal Rinpoche, affectionately known to their students worldwide as "the Khenpos," started the Portland chapter of the PadmaSambhava Buddhist Center. The center is based on the teachings of Buddhism according to the Nyingma school of Tibet. This tradition has been passed down for over 1000 years in an unbroken lineage to the present time. Through these profound practices, we can invoke our own inherent Buddha nature in this lifetime.
The inspiration for the center is the great Tibetan guru and founder of Tibetan Buddhism, PadmaSambhava. Considered to be the Buddha of our age, the greater the negativity, the greater PadmaSambhava's power of transformation.
The center meets every Sunday at 1 pm at 3717 SE Washington St. All are welcome.
For more information, please call: THE PORTLAND PADMASAMBHAVA BUDDHIST CENTER 503.230.4841