Dentistry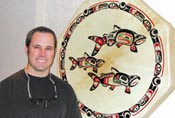 Darin J. Ward, DDS, F.A.G.D.
At Wellness Centered Dentistry, we focus on your overall wellness. By taking a holistic approach and arranging for health rather than merely treating disease, we offer an opportunity to restore your oral health to its optimum.
We look at the whole picture, consider systemic health and underlying factors, and take steps to perfect your smile while preventing problems before they occur.
Friendly faces welcome you in a relaxing, stress-free environment to ensure you are as comfortable as possible.
Call today and experience the benefits we offer with the extraordinary people and unique setting only Wellness Centered Dentistry can provide.

Wellness Centered Dentistry, PC Darin J. Ward, DDS, F.A.G.D. (Fellow of the Academy of General Dentistry) 300 Country Club Rd., Suite 290 Eugene, OR 97401
541.868.2008