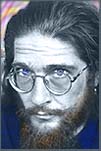 Starry Eyed by Spyrit
"On the west coast cancer is rising, promising the combination of those elements giving us a passionate and emotional start to spring."
As Alternatives hits the stands, spring is coming to the northern hemisphere, and we have just cleared the Pisces/Virgo eclipse. El Nino, cranky and needing a nap, secures a sloshy spring for us on the west coast. In the heavens it's fire, fire, fire. Six of the major planets sit in fire signs as the equinox dawns. Spring is here at 11:55 a.m. PST March 20th. This chart mixes fire and water. On the west coast cancer is rising, promising the combination of those elements giving us a passionate and emotional start to spring. Take an extra dose of your special remedy for cabin fever. Crocus and daffodils are blooming with tulips and iris close behind—keep your vases full of color. It's not just a rumor—there is a sun up there somewhere.
Saturn has been restricting Aries for two years and finishes up its transit on June 8th, so hold out rams. Your birthday present of freedom from stagnation will be late as Saturn moves into Taurus on June 8th, opening up those avenues that may have been restricted or suppressed since Saturn began its visit to Aries on 4.08.96. Saturn living in an earth sign (Taurus) for the rest of the millennium will put the highlight on home, security, and resources. It will be an excellent spring to experiment in self-reliance. Can you produce 5% of your food this summer? 10%? 20%? Go for it! Saturn gives the oppor-tunity to see clearly the difference between needs and wants.
The Aries new moon brings the lunar new year on March 27th. Earlier that day Mercury goes retrograde for the first time in '98, not turning direct until April 20th. It begins its review conjunct Saturn, giving us the opportunity to reevaluate all communication and, most important, the messages we have been sending to—and receiving from—our bodies. Now's the time to recommit to looking and feeling confident in our speedo's.
By the time the sun enters Taurus on April 19th, spring will be in full swing. This last two weeks of April should be dazzling. Mercury heads direct on the 20th, with a conjunction of the moon, Venus and Jupiter in Pisces on the 22nd/23rd. If your spring hasn't flinged by then, look out, you have some built up momentum and will likely surprise yourself. Earth Day is the 22nd (also Secretaries Day), so maybe plant an indigenous tree for that indispensable assistant around the office. This doesn't excuse you from buying flowers and the big lunch with the afternoon off. If you are the secretary, maybe suggest starting that long put-off recycling plan for your office. A great way to make a personal impact every day.
With all the fire sign transits, and Neptune and Uranus in Aquarius, we are in the middle of a social shift. Something far deeper than millennium madness. Those issues that are threats to social survival are becoming clear, apparent and impossible to ignore. We have the possibility to feel the reality that each drop in the ocean counts. As we each clean our own issues up, it parallels the mother moving through us to make the decision to commit to the restoration she deserves.
From one drop to another, peace in the puzzle.
Stephen Spyrit is a writer and teaches yoga at the Yoga College of India in Portland. He can be reached by .