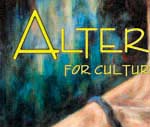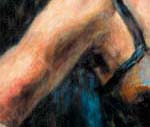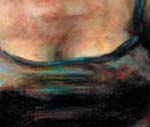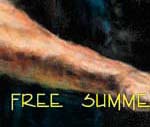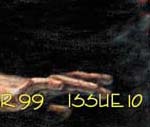 Cover Art & Artist
Dancer by Jazz-minh "This self portrait was done to break free of the formal constraints of painting at the art school, and to express another art form that is important to me—dance. I deliberately chose not to include the face because it usually takes over the focus of a painting. I wanted this to be about the dance, not the dancer.
"I am interested in the intensity of emotion that comes through dance. Like music or painting, dance is a language with its own vocabulary, subtlety and expression. Often, these languages of the arts communicate an idea or feeling more directly than words can. I love how these different disciplines complement one another."
Jazz Minh Claire Moore is a student at Cornish College of the Arts in Seattle.
Summer '99 Issue 10
Of Humility and Greed
by Tom Duffey
Star Wars Vs. Real Wars
by John Rude
Leaving Home: For Binos, In Memoriam
by Ness Mountain
Kaliyuga, Choo, Choo & Part 2 & Part 3 & Part 4
by William Benz
Dreams of Kindness, Love and Grace
by Carolyn Berry
Torture In The American Gulag & Part 2 & Part 3 & Part 4
by Tom Cahill
Departures & Part 2 & Part 3 & Part 4 & Part 5
Fiction by Geronimo Tagatac
Transformation Found In A Broken Foot
by Stuart Watson
Parenting At The Future's Edge
by David Spangler
Intuitive Decision-Making In An Age of Chaos & Part 2
by Paul O'Brien
Starry Eyed
By Spyrit
Email From Portland
by Kerul