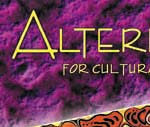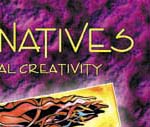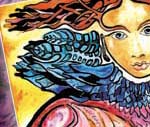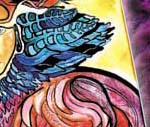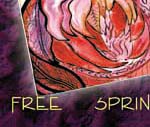 Cover Art & Artist
"My art and creativity are a celebration of life! I love it when people describe my work as 'happy, playful, powerful, brave, insightful and beautiful"—because that is how I feel when I am creating. I am so clear that creativity is what all people need to be experiencing in their lives . . . as said by the poet Rumi: Let the beauty we love be what we do.
"I deeply believe the creative process is a healing tool. As a Christian and a Feminist, my art also focuses on the healing of women and their families and is one of the ways I worship and rejoice in the Creator."
Shiloh McCloud has her own gallery, A Color of Woman, in Port Townsend, Washington. and is publisher of "Color of Woman, A Coloring Book and Journal." To connect with Shiloh and her gallery, call 1-888-385-6866.
Spring 1999
Issue 9
Leaving Home: Playing and Taboo
by Ness Mountain
The Dragoons of Cultural Fantasy & Part 2 & Part 3 & Part 4
by William Benz
Son of Man: The Mystical Path to Christ - An Interview with Andrew Harvey & Part 2 & Part 3 & Part 4
by Peter Moore
Is It Possible To Teach Peace? & Part 2
by Sebastian De Assis, PhD
Dreams of Kindness, Love & Grace
by Carolyn Berry
We Become What We Hate: Gazing into the Abyss of the Death Penalty & Part 2 & Part 3 & Part 4 & Part 5
by Dennis Godby
Fathering as a Spiritual Practice & Part 2
by Craig Scott Weiss
Bikes and Nudes: Portrait of a Nomadic Photographer & Part 2 & Part 3 & Part 4
by Julia Selwyn
Starry Eyed
by Spyrit