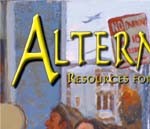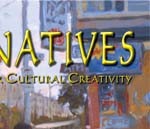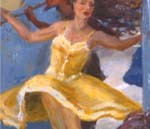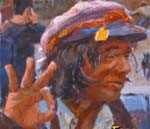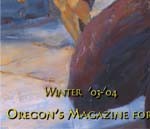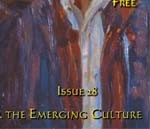 The Enraged Musician (oil on canvas)
by Jazz Minh Claire Moore
In this piece, an angry violinist is shutting the window on a bunch of rowdy street musicians. The perspective is taken from the street, while excluding the violinist, who is trapped in the frame of her window. Essentially, the violinist is trapped within the boxlike structure of her empirical training, not able to join the party. To join is to enjoy. It is to let go of hierarchies based on some notion of "mastery" and to simply be human. In disdaining the street scene, she affirms her superiority, which is further accentuated by her position as the isolated one from on high looking down upon the many. This is a problem that I see with class structures and elitist attitudes. There is nothing wrong with artistic or academic mastery so long as it does not inhibit the ability to enjoy community at the ground level.
Jazz Minh Claire Moore is an artist finishing up her Masters in Fine Art degree at California State University, Long Beach, CA. Born at Breitenbush Hot Springs in 1978, she has since entered city life and higher education, but is conscious not to lose her roots as a free spirited hippie child.
Winter '04 Issue 28
Yoga-Agelessness in the Face of Aging
By Brant Rogers
Put Away Your Toys - Poetry
by Asia
Chronic Pain-The Hidden Epidemic
By Rick Bayer, MD
Mind Over Genes-The New Biology
By Bruce H. Lipton, PhD
Confessions of a Straight Man
By Richard Marianetti
The Courage to Fly
By Jessie Diamond
Stretched Toward Him Like a Dark Wake
Fiction by Geronimo Tagatac
Of Coastal Hikes and Buoyed Hopes
By Tim Buckley
Let's Get the Big Money OUT of Oregon Politics
By Harry Lonsdale
Leaving Home: Facing Reality without Losing Hope-A Peaceful Nation
By Ness Blackbird
Some Dare Call It Treason-Wake Up America!
By Dr. Robert Bowman, USAF Ret.
Radical Astrology: Inner Guidance and Outer Transformation
By Emily Trinkaus
Dreams of Kindness, Love & Grace
By Carolyn Bolton