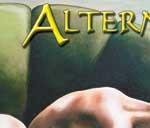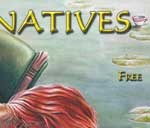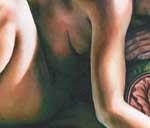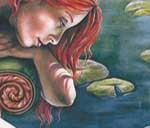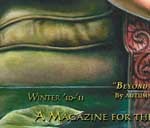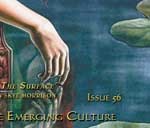 "Beyond The Surface"
by Autumn Skye Morrison
"I paint in celebration of this fantastic adventure.
I paint to inspire, and to be inspired.
Each canvas takes me on a journey, and as my paintbrush
follows, each time I am lead back to my center.
My art is a mirror, a reflection of our light and shadow,
our feminine essence, and our ancient divinity."
Born in Nova Scotia in 1983, Autumn Skye moved West with her family across Canada. She spent her youth between the majesty of the Rocky Mountains with her Father, and the lush coastal rainforests with her Mother. Autumn Skye has been painting since she was old enough to hold a brush, developing a deep wonder for nature and the world around her.
After much time spent waitressing, painting movie sets, owning a restaurant, and traveling the World, Autumn Skye now lives and paints on the Sunshine Coast of British Columbia. She considers herself among the blessed of the blessed.
Issue 56 Winter 2011
An Indigenous Prophesy - Visionary Experience & Sacred Technology
by Hank Wesselman
GUIDE - Exploring Consciousness at the Lost Borders of Hospice and Wilderness - The InnerView with Scott Eberle
by Werner Brandt
Algorithms and Red Wine - Is the 'Digital Hive' a Soft Totalitarian State?
by Joe Bageant
Upping the Stakes - The Diagnosis is Clear
by Derrick Jensen
"I Forgot What Things were Called and Saw Instead What They Are"
by Christiane Pelmas
What's Missing
by Katherine Baynton
Being Here Now
by Betsy Toll
What is Acupuncture
by Hilary Laferriere
Physicians' Perspective: Update on Obama-Care - Truth & Consequences of the New Law
by Dr. Rick Bayer, MD
Dying at Home
by Elizabeth Fournier
Somatic ZEN Yoga - Letting Go of What's Holding You Back
by Brock Noyes
The Turning Wheel: Astrology for rEvolutionaries, Winter, 2010/11
by Rhea Wolf
Paulo's Perspective - Advice from the founder of Interactive Divination
by Paul O'Brien