Nutrititional Therapy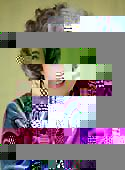 The Changing from Within Program • Are you frustrated by cycles of weight loss and rebound? • Would you like to change but you don't know how to begin?
Changing from Within is a holistic approach combining Nourishment Coaching with Shamanism, an ancient form of spiritual healing, to help you heal the hungers within and support you as you learn to re-connect to yourself physically and spiritually.
Obesity is a disease of malnutrition. We crave foods, but we are really hungry physically, emotionally, and spiritually? Until we recognize these hungers, and unite this emotional intelligence with changes in what and how we eat, we cannot heal ourselves.
The 2-year Changing from Within program, which meets monthly, begins January 19, 2008. The program includes class participation as well as private meetings. See my website for more information and free information sessions prior to the beginning of classes.
Analouise Williams, shamanic practitioner, teacher, nourishment coach, research anthropologist, offers classes and individual sessions to help you release unwanted weight.
503.201.9224 www.ChangingfromWithin.com email: [email protected]