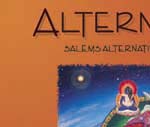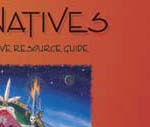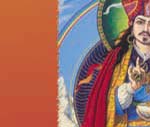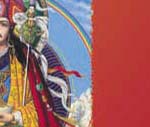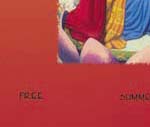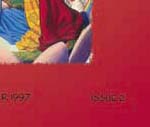 Cover Art & Artist
Padmasambhava is a legendary spiritual teacher for thousands of aspirants around the world. Born in present-day Pakistan, he brought the highest teachings of yoga and Buddhism to the sacred land of Tibet in the 8th century. Through the display of miraculous powers, he integrated the Shamanic practices of the Tibetan natives with his own mastery of Indian Buddhism, establishing Tibetan Buddhism.
Tibetan art is rich in symbolism, as it is an aid to the practice itself. Examples include the Blue Buddha with his consort (called "yab-yum" or "mother-father") and the ancient swastika pattern on his robe. Like the Chinese yin-yang, these represent the fundamental unity of opposites, i.e. our inherent nature.
Salem-born artist Jonathan Weber does not follow any particular religious tradition but finds inspiration in the fundamental truths of all spiritual paths.
Summer '97 Issue 2
Feng Shui: The Ancient Art of Design and Placement
by Rhonda Kennedy
Will It All Come Tumbling Down? & Part 2
by Jerry Scott
Reflections on Simplicity ... The Power of Gratitude
by Carolyn Berry
Passio
by Geronimo Tagatac
Focus On Dioxin
By the Editors
Environmental Toxin Effects: A Personal Case History
by Carroll D. Johnston
Ethics and Community Responsibility: Dioxin and the Toxics Right-to-Know & Part 2
by Mary O'Brien
Medical Waste Incineration: The Hidden Agenda & Part 2
by Ellen Twist
New Words, Old Ways
by John Rude
What Goes Around Comes Around Now...At Chemekata
by Jennifer Fanyak
The Oregon Plan: A New Approach to Recovering Salmon
by Bob Rice