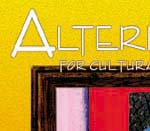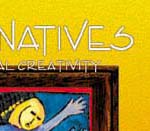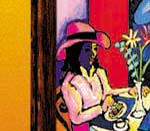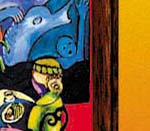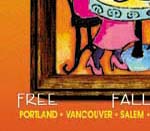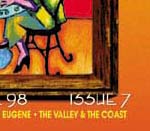 Cover Art & Artist
"Lunch at the Art Museum" is a painting by Silverton artist, Ann Altman. In this painting, she makes a statement about the place of art in our lives. Two women eat a sophisticated lunch while ignoring a painting representing life and death—a heart-felt rendering from an artists soul—on the wall behind them.
By stripping images of detail, Ann attempts to portray the essence of the object/idea as she perceives it. Intense color and boldly defined shapes are hallmarks of her style.
Ann Altman's work has been shown throughout the northwest, and has been published on cards, calendars, bookcovers and t-shirts. In her hometown of Silverton, she is a member of Lunaria Gallery. Her husband is a violin bowmaker and they have a 13 year old son.
Fall 1998 Issue 7
The UN's Convention On The Rights Of The Child And Its Importance To The Human Family & Part 2
by Richard Mitchell
I Am The Child
by Johnny Lake
What If... Possibilities For Our Children, Our World & Part 2 & Part 3
by Janai Lowenstein, M.S.
Being A Dad And Raising A Daughter
by Peter Moore
Building Self-Esteem In Teens: Working Together To Find Community Solutions
by Kathy Masarie, MD
Oregon At The Crossroads: A Path To Sanity and Sustainability & Part 2
by Blair Bobier
The Possible Bankruptcy Of Marion County Through Lack Of Democracy, Fiscal Irresponsibility & Special Interest Money & Part 2 & Part 3
by Eric Dover, MD
On the Recent White House Revelations, of Matters, Most Delicate
by William P. Benz, Esq.
Leaving Home
by Ness Mountain
Dreams of Kindness, Love & Grace
by Carolyn Berry
Starry Eyed
by Spyrit