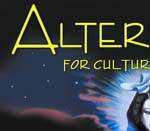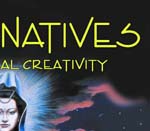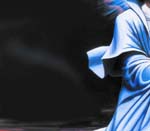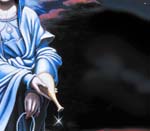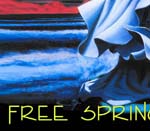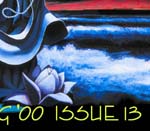 Cover Art & Artist
Kuan Yin: Mother of Compassion (acrylic on paper © 1/200) by Jonathan Weber
"This image of the Mother is inspired by the spiritual traditions of Buddhism, Taoism, Hinduism, and Tantra, where she has many names and forms. The Chinese name, Kuan Yin, is translated as 'She who hears the cries of the world,' for She is a Goddess that responds to the suffering of people and their desire for emancipation. She offers the nectar of wisdom that reveals the pure essence of eternal spirit, which cannot be tarnished, damaged or destroyed by the hardship and pain of this world."
Jonathan Weber is a visionary artist and mystic whose passion for global peace through individual awakening is manifested in painting, music, and writing. This piece was completed during a spiritual retreat in the Siskiyou Mts. of Southern Oregon.
The original of Kuan Yin will be on display, along with prints for sale, at the Goddess Gallery in Portland. Contact Jonathan.
Spring '00 Issue 13
WorldDharma-A Former Monk Looks Beyond Buddhism & Part 2 & Part 3 -An Interview with Alan Clements
by Jeannine Davies
On the Path
by Bob Czimbal
Holding Space & Part 2 & Part 3
by Melita Marshal
The Direct Path: Imminence and Transcendence: Social Activism in a World Saturated with Divinity & Part 2 & Part 3 & Part 4 An Interview with Andrew Harvey
by Maria Todisco
Marrow of Flame Poems of the Spiritual Journey
by Dorothy Walters
Anti-Growth or Pro-Community Salem's Mayor Makes His Case & Part 2 & Part 3 by Mike Swaim
Dreams of Kindness, Love and Grace
by Carolyn Berry
Medicinal Marijuana: It's a Long Way to the Pharmacy & Part 2 & Part 3
by Brady Derrah
Leaving Home
by Ness Mountain
13 Moon Community
by Eden Sky
Doing Time in Timelessness The Yoga of Prison
by Sarahjoy Marsh