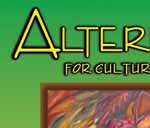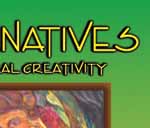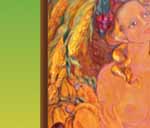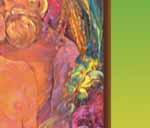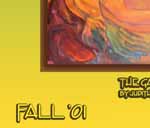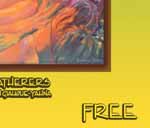 "The Gatherers" (Oil on canvas) by Judith Giauque-Yahna
The single theme of my artwork of the past ten years has been the necessity of returning the "Sacred" to Nature and the Feminine Principle. I believe that the root cause of our social and environmental crisis is the systematic desecration of Nature and the feminine by a patriarchal (dominator) paradigm. Unbalanced, the masculine principle has waged war on womens bodies, the human spirit and the planet itself. Archetypal figures which confide both the methods and the rewards of healing this imbalance have appeared, one by one, to be painted. These images reveal themselves as aspects of the empowered divine feminine. They portray the qualities inherent in all human beings; creativity, generativity, ecstatic joy, relationship and unconditional love.
"The Gatherers", eighth in a series titled The Verdant Ones, are themselves the lush, abundant harvest, the "green" fruits that grow from our labor of healing. They illustrate the redemptive evolution possible as we once again honor the sacred in Nature; as we are able to make harmonious the cosmic dance of masculine and feminine energies.
Contact Judith at Squared Circle Studio 503-233-9644, email: [email protected] or www.judithgiauque.worldartspace.com
Fall '01 Issue 19
If It Smells Like Hell It's Probably Pictsweet-The Mayor of Salem Speaks Out About Human Rights on the Home Front
By Mike Swaim
Physicians' Perspective: Seeking Medical Information by Internet? Or Lost in Cyberspace?
By Dr. Rick Bayer
Follow the Money: Focus on America's Failed War on Drugs
Prohibition Laws: Why They Must Go
By Shannon Floyd
As the Summer of the Victim Turns to Autumn of the Tyrant
Choose Love
By Leslie Temple-Thurston
Taking Refuge: Reflections on Service
By SarahJoy Marsh
Dreams of Kindness, Love & Grace
By Carolyn Berry
DEATH: The "Sugar" of Life
By Barbara Coombs Lee
On The Path: Conscious Love 795
By Bob Czimbal
Leaving Home: Disaster on Earth: End the Denial
By Ness Mountain
You Say Liberal Media, I Say Trivial Media, Let's Call the Whole Thing Off
By Rick Marianetti