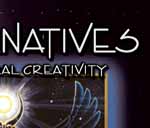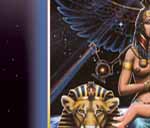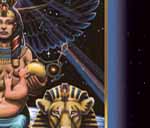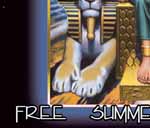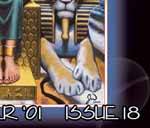 "ISIS" (Acrylic on HP Watercolor paper) by Jonathan Weber
"In the beginning there was Isis: Oldest of the Old, She was the Goddess from whom all Becoming Arose. She was the Great Lady, Mistress of the two Lands of Egypt, Mistress of Shelter, Mistress of Heaven, Mistress of the House of Life, Mistress of the word of God. She was the Unique. In all Her great and wonderful works She was a wiser magician and more excellent than any other God." -Thebes, Egypt, Fourteenth Century BC
This is the third cover of Alternatives to display the work of artist Jonathan Weber, 28, who now resides in the Siskiyou Mountains of Southern Oregon.
Born and raised in Salem, Jonathan has evolved a style and discipline that evokes the spiritual dimension of life. He currently produces portraits on commission and continues to add work to his "Goddess series", dedicated to revealing the empowered feminine archetype as a healing agent for a society abused by a dominant patriarchy.
"Isis" is now on display at the Goddess Gallery in Portland, with prints for sale. Contact Jonathan at; 541.846.9323 or [email protected].
Summer '01 Issue 18
The Cultural Creatives: We Are Everywhere
The 'InnerView' with Paul Ray
by Peter Moore
Bali
Fiction by Geronimo Tagatac
Taking Refuge
by SarahJoy Marsh
'Scared Green' - Anatomy of a Corporate Media Sting Operation-If Disney is Such a Friend to Children, Why Does Its Subsidiary ABC Trash Environmental Education for Kids?
by John Borowski
Dreams of Kindness, Love & Grace
by Carolyn Berry
How I Overcame My Juvenile Diabetes Naturally
by Sergei Boutenko
Trail Fees
A Bad Idea for a Rogue Agency
by George Sexton
On The Path
Commitment Ceremony
by Bob Czimbal
Yurts
Round & Unbounded
by Becky Kemery
US Military Interference in the Colombian Civil War: Media Bias and America's Emerging Military Nightmare
by Dr. Rick Bayer
Leaving Home
Listening Between the Lines: the Double Bind
by Ness Mountain
Love, Sex & Enlightenment
by Margot Anand