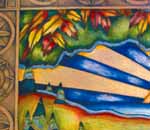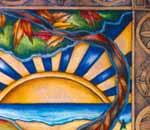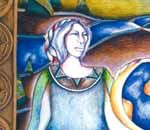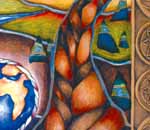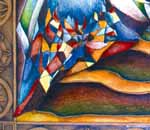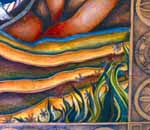 "Mother Earth" (Colored Pencil and Ink)by Holli Zollinger
"I began drawing with only a small notion of what inspired me. But through the years I have cultivated a deep love for Nature and the personification of Nature through the female and male. This is one of my focuses...to bring divinity and spirituality into the body. I believe in the merging of these two opposites to create a whole being.
"'Mother Earth' was created in the richness and color of a world newly born. She is Nature and embodies the joys that come from each season. She instructs and enlightens us to the cyclical patterns of life. She came about from a deep love and reverence for my own Mother and the Divine Mother."
Holli Zollinger is a self-taught artist with a passion to create. After graduating from school she began to travel and seek out an education not based in any school or institution. "In many ways this has allowed for absolute freedom of expression. I continue to learn the necessity for patience and movement. And understanding these currents, I ride the waves of color, line and shape giving way to form and beauty."
Holli is available for commissioned work and personalized Mandalas. You can view Holli's work at Healing Waters & Sacred Spaces, 2426 NE Broadway, Portland, OR. Contact Holli at [email protected].
Winter '01 Issue 20
Life On A Limb-The Interview with Tre Arrow
by Miriam Green
The Challenge of Peace In Time of War
by Betsy Toll
My Father's Clouds: Commercialism in a Can
by John Borowski
Focus on America's Failed War on Drugs: DARE to Tell Your Kids the Truth Quandaries of a Thinking Parent
by "Mama" Sandee Burbank
In Search of a Prime Directive
by Brian Bogart
The Best Security: Make Sure Your Neighbors Are Happy
by Avishai Pearlson
Physicians' Perspective: Tolerance with Wisdom, Not Anger with Revenge
by Rick Bayer, MD
Dreams of Kindness, Love & Grace
by Carolyn Berry
Which Way to Bloomingdale's
by Erico
Dream Weaving-ReDreaming the Dream of Your Life
by David Lang
Leaving Home: People of Peace Stand Together
by Ness Mountain