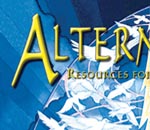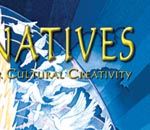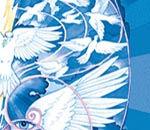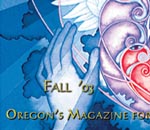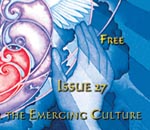 "Peace Offering" (watercolor) by Francene Hart
Created after the planetary choice point of 9/11, this painting depicts vortices of peace doves over a background of dark storm clouds. Hearts, formed by golden spirals, are offered as prayers with the con-scious intention of peaceful hearts everywhere to transmute darkness, fear and duality into unity, love and compassion.
Francene Hart is an internationally recognized visionary artist. She utilizes the wisdom and symbolic imagery of Sacred Geometry, reverence for the natural environment, and the interconnectedness between all things to create watercolor paintings of beauty and spirit. Her work acts as a bridge between this reality and a world of healing, and transformation. Francene makes her home on the Big Island of Hawaii where she lives in gratitude and appreciation.
For more information on the artmaking of Francene Hart: P.O. Box 900, Honaunau, HI 96726 [email protected] www.francenehart.com 808-328-7344
Fall '03
Issue 27
Transforming Home
As Without, So Within:
House Keeping as Coach Therapy
By Bobbie Klym
Mindfulness & Compassion
The Practice of Awareness
By Kerry Moran
Physicians' Perspective:
Privatization of Medicare:
Fake Left, Run Right
By Rick Bayer, MD
Dancing with Freedom
Unraveling the Tie that Binds
By Randy Johnson
What Would Jesus Bomb?
The Last Temptaion of America
By Todd Huffman
"Bring 'em On?"
A Special Forces Combat Vet Considers the Commander-In-Chief
By Stan Goff
Signs & Omens
Poems of Asia & OSHO
We Stand Our Ground
By William Rivers Pitt
Radical Astrology:
Consciously Activate Your Unconscious
By Emily Trinkaus
Practicing Death
The Key to Enjoying Life
By Mike Tymn