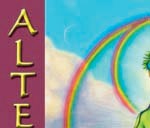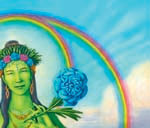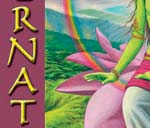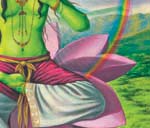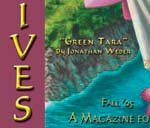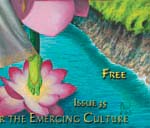 Green Tara by Jonathan Weber 22" x 32", acrylic on panel
The Goddess Green Tara is a popular Buddhist deity who represents compassionate action, protection and enlightenment. "Tara" means "star", which refers to her ability to guide beings from suffering toward liberation.
A legend of Tara's origin is that the Buddha of Compassion looked upon the world of humans and grieved over the immense suffering and pain he saw. He cried until there was a great pool, out of which Tara emerged as a young woman sitting on a lotus flower, ready to act for the benefit of all beings.
Tara's green form reflects her role as a goddess of plants, life, and growing things. It is also a color of the heart chakra. She is holding a blue peonia flower, symbolizing her compassionate heart, and she gestures the mudra of giving refuge. Her right hand displays the mudra of boundless giving.
Jonathan Weber is a self-taught visionary artist dedicated to revealing the sacred feminine in art. He currently resides in the mountains of Southern Oregon. He has an online gallery at altarimagestudio.com, and can be contacted by email; [email protected] or by phone; 541.846.9323. Prints of his work can be purchased at the Goddess Gallery in Portland.
Fall '05 Issue 35
Death of a Victim
by Asia Kindred Moore
Medical Marijuana - The InnerView with Stormy Ray
by Peter Moore

Physicians' Perspective:
Medical Cannabis or Marijuana
Impairment: What Are The Facts?
by Dr. Rick Bayer, MD
The Noyes Factor - The Awe-Full World of Paradox
by Brock Noyes
America Programmed for War - Cause and Solution by Brian Bogart
Life Advice
from Catherine Ingram
Family Constellations
by Mary Lansing
Oneness - A Spiritual Solution for Turbulent Times
by Pauline Baumann
Uncovering Intimacy
by Fred Mills