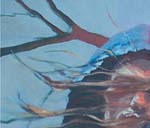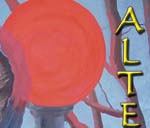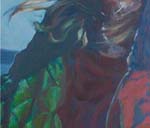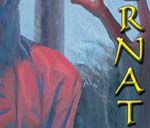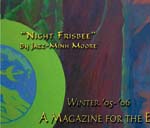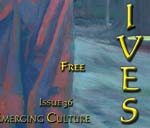 "Night Frisbee" by Jazz Minh Moore 98" X 32", oil on panel
'Night Frisbee' depicts shadowy figures throwing glow in the dark disks around in that half-light of twilight. The setting is a park, situated between a pristine moonlit lake and a Gotham-style city. Wind blows the protagonist's hair toward the lake, blocking a piercing gaze that would have been directed at the viewer. Red-orange orbs of color stand in for street lamps. The color is designed to create a physiological response in the viewer, adding to the perception of the piece.
Jazz-Minh Moore graduated with her BFA from Cornish College of the Arts in Seattle, and has just finished her Masters of Fine Art degree at California State University, Long Beach. Since moving to Long Beach, Jazz Minh's work has addressed a balance between nature and culture, representation and abstraction, color and form. Though her work can be described as urban, there is always a bit of the Oregon woods she grew up influencing her subject matter and her style of painting.
Winter '05-'06 Issue 36
Bumping into People & Social Taboos
by Heidi Beierle
Cancer Patients & Bodywork Therapies
by Alicia Swaringen
Super Size Orgasms?
by Marnia Robinson
Heavy Metal: Mercury in the Mouth and the Coming Crisis
by Russ Tanner
Medical Marijuana
Update on Senate Bill 1085
by Stormy Ray
Physicians' Perspective:
Medical Marijuana Act Amended for 2006: First Impressions
by Dr. Rick Bayer, MD
Getting a New Perspective on Money
by Steven Sashen
Ugly Money and Its Solution
by Harry Lonsdale
Common Sense, Again
Poem by William Benz
America's Weapons
Wounding the World
by Brian Bogart
Opening Up Hearts Minds One More Time
by Shannon Floyd
The Noyes Factor
Public Enema Number Two
by Brock Noyes
Winter Theories on Parental Units
by Asia Kindred Moore
We've Been Living in a Dream World
by Jean-Claude Koven
Life Advice
from Catherine Ingram