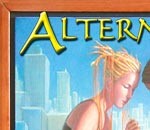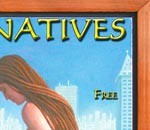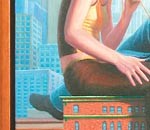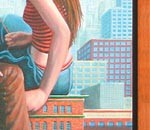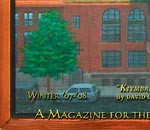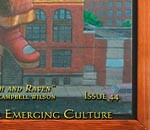 "Kiymbah and Raven" by David Campbell Wilson
This month's cover painting depicts northwest performance artists Kiymbah & Raven sitting on the Seattle Steam Factory in historic downtown Pioneer Square.
David Campbell Wilson was born on October 26, 1973. He began formal art training at the University of the Arts in Philadelphia at the age of twelve, and received a BFA from Syracuse University in 1995, where he studied under reknown figurative painter Jerome Witkin. His paintings have exhibited in Los Angeles, New York, Seattle, and Portland.
David spent five years living in Pioneer Square where he exhibited frequently and volunteered part-time at the Seattle Art Museum Rental/Sales Gallery. He is an ordained wedding minister, an accomplished fire performer, and a decorated member of the Burning Man Fire Conclave.
David currently lives and works in downtown Los Angeles with his girlfriend and their three cats. More of his work can be viewed online at http://www.davidwilsonlives.com.
Generation 911 - Today is the Tomorrow that You Worried About Yesterday
by Asia Kindred Moore
Faith and War: What Would Jesus, the Ultimate Progressive Radical, Do?
by Cindy Sheehan
Multiply Smallnesses - American Agriculture from Consumption to an Ecology of Hope
The InnerView with Gary Holthaus
by Peter Moore
Spilling the Beans on Soy
by Heidi Sopinka
Nuggets, Hummers & Fish Sticks, Oh My! - Vegetarianism & Environmentalism
by Bruce Friedrich
10 Million Americans Busted for Pot - Enough is Enough
by Paul Armentano
Moral Breaking Point - Address to People of Conscience
by "Rocky" Anderson, Mayor, Salt Lake City
A Brief Update on Globalization
by Russ Beaton
Physicians' Perspective: - Healthcare & Presidential Candidates
by Dr. Rick Bayer, MD
Metaphysical Prescription for Better Health - The InnerView with Dr. Steven Hodes
by Laurie Sue Brockway
Winter Solstice Blessing
by Stacy Anne Murphy
The Turning Wheel - Astrology for rEvolutionaries
Winter, 2007/08
by Rhea Wolf
Life Advice from Catherine Ingram