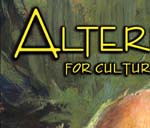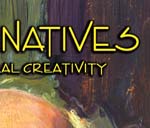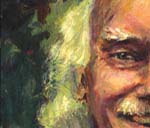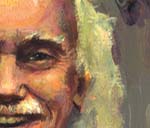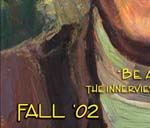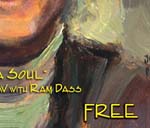 "Ram Dass" (acrylic), by Jazz Minh Claire Moore
"The 1st time I met Ram Dass was in the hot tubs of Breitenbush—I was six years old and somehow I knew he was a special person. More recently, in Thailand, I watched a movie about his life and was struck by the intellectual & spiritual balance that characterize his life. One of the things that stood out in the video was his fastidiousness about cleanliness & being on time. I interpret that to mean it is still important to have order, even when we're here in the moment. Being Here Now doesn't mean letting go of responsibility, order & focus. It's especially important to me, a young person, trying to develop a creative unique life. I saw RD again at the Oregon Country Faire this July. Remarkable. When he was talking, even if he didn't finish his sentence, my impression is that 6,000 people were thinking the same thought. It all comes down to love and compassion—even in midst of this polite mess. In that group I felt a oneness.
Jazz Minh Claire Moore is a graduate student pursuing her Masters of Fine Arts degree at the University of Long Beach in California. She is one of an emerging generation born and/or raised at Breitenbush Hot Springs, Oregon.
Fall '02 Issue 23
Psychopaths On Parade
By Richard Reid
"Be A Soul" The InnerView with Ram Dass
By Peter Moore
Leaving Home: The Touch of Stone, The Taste of Blood
By Ness Mountain
Ecstatic Moments On the Tantric Path
By Bob Theiss
The Healing of Multiple Sclerosis - Embracing Love and the Innate Inner Healer
By Christine-Yazmin Albright
Radical Astrology
By Emily Trinkaus
What Democracy? (Part II)
By Harry Lonsdale
Physicians' Perspective - Medical Rights 2002: From Exam Room to Ballot Choice
By Rick Bayer, MD
Toxic Waste in the Public Well Revisited - A Foot-in-Mouth Tale
By Miriam Green
Say It Ain't So Senator Daschle - Shame on the Big Green Environmentalists
By John Borowski
Dreams of Kindness, Love & Grace - Wealth Addiction
By Carolyn Bolton
The Celtic Spiral - An Everyday Path to the Sacred
By Mara Freeman
The Ecstasy of Transformational Creation
By Carolyn Campbell
Thunder Rising: A Green Light for Hope of Global Proportions
By Brian Bogart
Intuitive Solutions
By Karen Grace Kassy