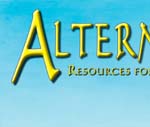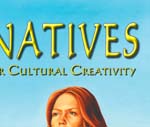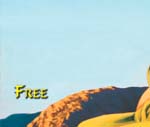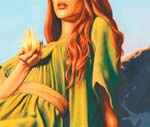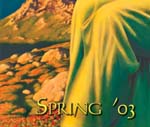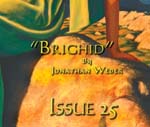 "Brighid" (acrylic 48"x32") by Jonathan Weber
Brighid is one of the most universal goddesses of the Celtic pantheon. She is often viewed as a triune goddess; maiden, mother, and crone. As maiden, she is the fire of inspiration & poetry. As mother, she is the fire of the hearth and presides over midwives & healers. As crone, she is the fire of the forge and patroness of smithcraft & divination. Though seen as a solar goddess, water sources (wells or springs) are sacred to her.
In legend, Brighid is called the "Two-Faced One." One side of her face is the ugly hag of Winter, the other the fair maiden of Spring. Each year she transforms Winter into Spring, honored at the druidic festival of Imbolc, or Candlemas, February 2nd.
For the artist, this painting represents a promise of brighter days to come, along with the inspiration of new beginnings.
For prints of Brighid and other goddesses, commission work, or originals, Jonathan can be contacted at his studio in the mountains of southern Oregon, at: Altar Image Studio, PO Box 458 Williams, OR 97544; 541.846.9323 [email protected]
Spring '03 Issue 25
Radical Astrology:
It Starts This Spring
By Emily Trinkaus
Skillful Means: The Practical Wisdom of Presence-Centered Psychotherapy
By Kerry Moran
Listening to the Heart
By Carol Hwoschinsky
The Underground Healthcare Revolution
By William B. Ferril, MD
Heart, Head & Hands
By Russ Reina
What Are You Sending?
By William Benz
Physicians' Perspective: Obesity, Lifespan and Diet
By Rick Bayer, MD
My Father's Clouds: Caffeine and the First Amendment
By John Borowski
Fossil-Fuel Vampires (Part II)
By Richard Marianetti
Dreams of Kindness, Love & Grace: Stigma
By Carolyn Bolton
The Idolatry of Ideology
Why Tax Cuts Hurt the Economy
By Russ Beaton
Leaving Home:
Money and Intimacy
By Ness Mountain
Living as a Free Human Being
By Alan Clements
Innocence
By Catherine Ingram