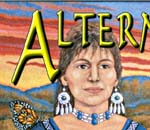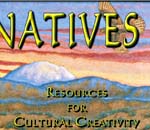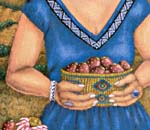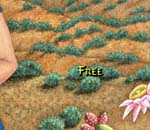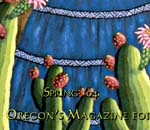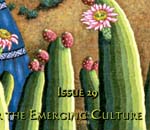 "Mujer con La Ofrenda" (Woman with Offering) (acrylic on canvas) by Marta DeLeon
Hawk and butterfly are animal allies of this artist in her self-portrait in the desert. She offers back to the desert spirits, the cactus fruits (tunas) in a Nez Perce basket, which symbolizes her family heritage. A sacred mountain rises in the backround.
"I feel much pride and enjoyment in painting the history, legends and current cultural aspects of Latino and Native American peoples. I enjoy painting people and animals in a forest, jungle or desert setting. My philosophy is that artists have a great opportunity to promote social consciousness and bring humanity a message of beauty, harmony and peace. I speak out for a just society for all . . . not the ruling class."
Marta can be reached at: 503.642.4373 or at 18663 SW McClarey Dr. #24, Aloha OR 97007
Spring '04 Issue 29
Domestic Wonderwoman or Domestic Terrorist?
Kari Rein on Thin I.C.E.
(Immigration Customs Enforcement)
By Corbin Brashear
Nonviolent Communication as an Evolutionary Imperative
The InnerView of Marshall Rosenberg
By Peter Moore
Conscious Relationship and Conscious Divorce
Finding Love and Meaning in the Law
By Kim Wright, J.D. and Marty Price, J.D.
Flowers Under the Snow Some Thoughts on Fasting
By Steven A. Bailey, ND
These Things Are Scent to Try Us
By Marian Van Eyk McCain
Move Over Joe Camel
By John Borowski
Physicians' Perspective: The Oregon Medical Mariuana Act
A Report Card at Five Years Old
By Rick Bayer, MD