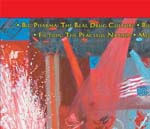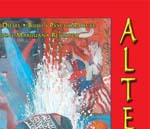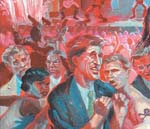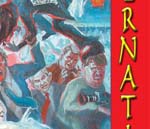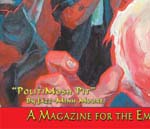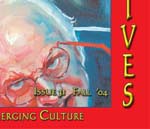 PolitiMosh Pit by Jazz-Minh Moore
The political 'arena' bears much resemblance, in essence, to the mosh pit at a rock concert during a GWAR show. Though the uniform differs from the tattoos and torn flannels of the average GWAR fan, the intent is similar: to simulate battle whilst grooving to the band of your choice. George Bush and John Kerry may be from 'opposing' political parties, but they bear the same pedigrees from the same upper middle class elite, down to membership in the Skull and Bones secret society and a Yale diploma. Both are supported by the same corporate structure and indeed many of the same corporations. Are they fighting or telling secrets?
As Condaleezza Rice nails Kerry with a mean front jump kick, Ralph Nader looks to the heavens, as if calling to a higher power for intervention. Colin Powell, caught between his essential humanity and the lies he must tell to keep his job, looks on sadly. In complete dissonance with mosh pit etiquette, Donald Rumsfeld wrenches a crowd crawler (who happens to be my little sister) from on high. Michael Moore bears her weight as he films the whole charade. An eerie blue light reveals Paul Wolfowitz and John Ashcroft leering at Moore. Ashcroft goes for his jugular.
In the midst of this strange spectacle, a demented Dick Cheney spots you beginning to understand what's really going on here. He understands the implications of a public that sees through the illusions and lurches towards you. Will you run?
Jazz-Minh Claire Moore is a Pacific NW artist, currently finishing her Master's in Fine Arts degree at the University of Long Beach in Los Angeles, CA. She can be reached at [email protected].
Fall '04 Issue 31
What Money Doesn't Buy
By Alan Thein Durning & Elisa Murray
The Madness of George W. Bush
A Reflection of Our Collective Psychosis
By Paul Levy
Gimme An Oil Change
Drivers Climb On the Vegetable Powered Bandwagon
By Caroline Cummins
YES on Measure 33: Medical Marijuana - From a Patient's Perspective
By David Currie
Political Insanity about
Marijuana and Drug Use
By Robert Volkmann, MD
Physicians' Perspective Medical Cannabis Update:
Smokeless Marijuana
By Dr. Rick Bayer, MD
Big Pharma Bilks the Elderly - The Real Drug Culture
By Michael Donnelly
Sabina and the Peaceful Nation
An Original Propaganda In Four Parts (Part the Second)
Fiction by Ness Blackbird
Waiting for Me (My Being)
Poetry by Asia
Hubris
By Kerry Moran
Healing and Disability Creative Adaptation to Change
By Elizabeth Zenger
Teachers Under Pressure
The Not So Stealth Attack on Public Education
By John Borowski