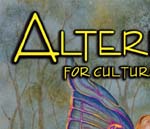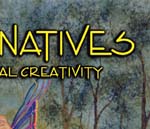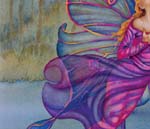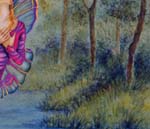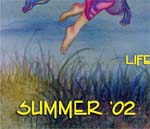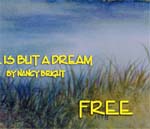 "Life Is But A Dream" (watercolor), from the Journey Line by Nancy Bright
"Borne of the desire to express my deepest passions—the deluge of emo-tion, the turmoil of pain, the beauty of a vision, or the mystery of a dream—the "Journeys Line" has emerged.
Over the years I have realized that these paintings are an intensely personal, visual autobiography that not only provide for me a livelihood, but bring a natural evolution of healing and resolve to each of life's transitions from which they were inspired.
It is an ever-continuing challenge to master the technique of watercolor and to embrace my heart's knowledge soundly enough to transform its visions into art. As I cultivate this gift and share it with others, in turn, my most treasured blessing is in knowing that others have been touched in some small way."
Nancy Bright is a self-taught watercolor painter widely recognized for her touching spiritual imagery. For a free catalogue of greeting cards and prints call 541-342-8051. You can also visit Bright Creations on the world wide web at www.brightcreationsart.com. Nancy also sells at the Eugene Saturday Market, space # 95.
Summer '02 Issue 22
Putting Campaign Finance Reform On The Ballot
By Lloyd Marbet
Apathy, An American Tragedy of Global Proportions
By Brian Bogart
"You Can't Eat Money!" Interview with Granny D
By Peter Moore
Risk-Benefit Profile of Commonly Used Herbs: Legal & Otherwise
By Rick Bayer, MD
Leaving Home:
Lessons in Listening
By Ness Mountain
Alberta Abalone, Not the Pearl-On the Invisibility of Everything that Matters
By William P. Benz
What Democracy? (Part 1)
By Harry Lonsdale
The Healing Art of Tarot
By Toni Gilbert
Radical Astrology
By Emily Trinkaus
Dreams of Kindness, Love & Grace
By Carolyn Berry
Meditation Practice
By Debrah Kristine Harding
Who Is My Family, Really? The Projective Tendencies of the Mind In Dreams and Reality
By Paul Levy