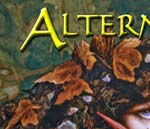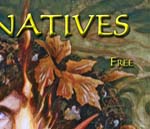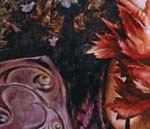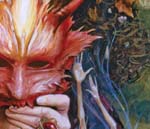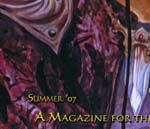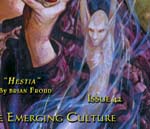 "Hestia" by Brian Froud
For over 30 years, Brian Froud has been regarded as the pre-eminent faerie artist in the world and an authority on faeries and faery lore. His international best-selling book, FAERIES with fantasy and Tolkien illustrator Alan Lee is considered a modern classic. His landmark work with Jim Henson as conceptual designer on feature films THE DARK CRYSTAL, LABYRINTH and other Henson projects set new standards for design, puppeteering and animatronics in film and are considered landmarks in the evolution of modern day special effects and attract an international cult following. With over 8 million books sold to date, Brian's international best sellers include LADY COTTINGTON'S PRESSED FAIRY BOOK, GOOD FAERIES / BAD FAERIES and THE FAERIES' ORACLE and LADY COTTINGTON'S FAIRY ALBUM. Other works with text by Ari Berk include GOBLINS!, RUNES OF ELFLAND and LADY COTTINGTON PRESSED FAIRY LETTERS.
Brian's work has been licensed by numerous licensing companies internationally. Brian is currently creating concept designs for a sequel to THE DARK CRYSTAL, produced by the Jim Henson Company and working on a project for Lucasfilm. Brian lives in Devon, England with his wife, internationally acclaimed doll maker Wendy Froud, and their son, Toby. The Official website of Brian & Wendy Froud is: www.worldoffroud.com. Brian and Wendy will be appearing at The Faerieworlds Festival in Eugene, OR on July 21-22.
Generation 911 - Paranoid Pharmapseudopsychologica
by Asia Kindred Moore
Bad Taste
by Peter Moore
Zaadz: Virtual Community's New Meaning
An Interview with Siona van Dijk
by Peter Moore & Werner Brandt
Snuff Civilization
by Derrick Jensen
The Good American
Scott Ritter
Embracing Death's Journey with Our Animals
by Ella Bittel
Physicians' Perspective: Gardasil®
HPV and a New Anti-Cancer Vaccine
by Dr. Rick Bayer, MD
Transforming the Repression of Divine Feminine
by Wahkeena Sitka Tidepool Ripple
To My People - An Anthem to Celebration
by Stacy Anne Murphy
Women's Sexual Healing
From Feminism to the Divine Feminist
by Anyaa McAndrews & Candessa Hadsall
Acupuncture for Methamphetamine Addiction Recovery
by Y. JeanMarie Calvillo, PhD
A Terroir-ist's Manifesto For Eating In Place
by Gary Paul Nabhan
Life Advice
from Catherine Ingram