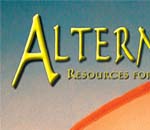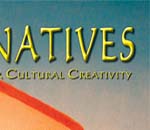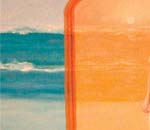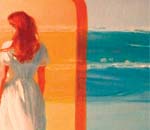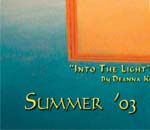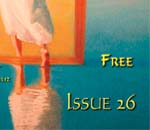 "Into The Light" (Oils, 16 X 20) by Deanna Kiliz
"My husband and I went to the ocean together, and he snapped a photo of me. Looking at it, this is what I envisioned."
Born on a farm in Oklahoma, Deanna moved, at age 8, with her family to a farm near Arlington, Washington. She now lives near the Satsop River on the Olympic Peninsula in a timber frame home she and her husband designed and built together.
Deanna pursues art in a studio there. She has drawn and painted all her life in different mediums. "I love creating with my hands, my mind, and my heart." She has done numerous commissioned portraits; and has a series of prints of dancers, women in their gardens, and children at play. She also works in clay, and is currently working on a series of wood sculptures.
For prints of "Into The Light", or originals, contact Deanna at Rainbow River Art, W. 3461 Fish Hatchery Rd., Elma WA, 98541, 360-426-6518.
Summer '03 Issue 26
Dreams of Kindness, Love & Grace: Religious Tolerance and a Dialogue of Peace
By Carolyn Bolton
People's
Landmark Example of Sustainability & Service
By Jill Brandt
Leave No Child Behind
The Rights of the Child and the American Dream
By Lisa Mayfield Stewart
Mundane and Sacred Psychotherapy
By Linda Shannon
Physicians' Perspective: Health Care Meltdown and the Crazy Myths that Keep the Heat On
By Rick Bayer, MD
Radical Awareness
By Kerry Moran
Leaving Home: Welcome, Elsie Blackbird
By Ness Blackbird
Birth on a Wire
How I Learned to Stop Worrying and Have a Baby on the Couch
By Shannon Floyd
Looking Where We Are Going-Releasing the Fear of Getting Old
By Marian Van Eyk McCain
Radical Astrology: Nurturing the New World
By Emily Trinkaus
A Unifying Concept
By John Schmidt
This is Your Brain on Drums...Any Questions?
By Steve Koc