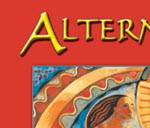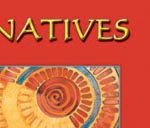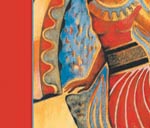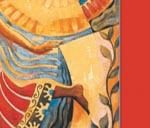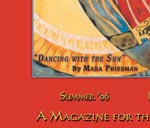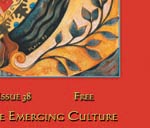 "Dancing with the Sun" by Mara Berendt Friedman
An artist most of her life, Mara's main body of work was born on Kauai. For over ten years she has been creating paintings that honor the feminine aspect of Spirit. Her imagery draws inspiration from cultures around the world, from the cycle of the seasons, and from universal symbols and form. Through her work she shares her deep appreciation for the exquisite beauty that surrounds us all.
In 1994 Mara relocated to the Pacific Northwest where she started a small publishing company, New Moon Visions, that reproduces her images on cards, giclees, posters and other artgifts. Her work can be found in shops across the country and is also featured in books, calendars and many other publications. Her paintings depicting the grace, beauty and strength of women, have been used by many community service organizations as visual inspiration for their clients.
To learn more about Mara, request a catalog, or to inquire about original paintings and artgifts contact: New Moon Visions, 800-701-6984 or visit us www.newmoonvisions.com.
Summer '06
Issue 38
How Unique
by Asia Kindred Moore
Heavy Metal: Public Policy, Public Poison & Public Safety-Mercury Amalgams in Current Events
by Peter Moore
Convivium with J.R.R. Tolkien-An Old Idea Coming of Age
by Darielle Richards
Physicians' Perspective: Oregon's Death with Dignity Law-Beats Bush Juggernaut
by Dr. Rick Bayer, MD
Nightmares in the American Dream
by Brock Noyes
Time for a New Governor-A Campaign..A Movement...A Place of Magical Beauty
by Joe Keating
Collaborators in the Classroom-How Right-Wing Talk-Radio Uses Our Kids
by John Borowski
The Gift of Prophecy-Divination in the Bible
by Paul O'Brien
I Say ta-MAY-doe & You Say Tow-MAH-toe-An Unexpectedly Dark Tale
by Richard Marianetti
Birth Ecology-Tending the Garden of Birth
by Kara Gaia Spencer, LMT, CD
Divorce, Custody, Support-The Problem of Access to Justice-In Family Law
by Lisa Mayfield
The Courage to Heal
by Dr. Steven Hodes, MD
Touch Junkie: On Relationship, Creative Touch and Overflow
by Heidi Beierle
Life Advice
from Catherine Ingram